Now you can root your android device without PC, just use framaroot. This app including several exploits named as the heroes of the book "The Lord of the Rings" Gandalf, Boromir, Pippin, Legolas, Sam, Frodo, Aragorn and Gimli. You can install Superuser and su binary on phone or tablet from android version 2.x to 4.x. All compatible devices can be found here. Unroot also very simple, just use this option in framaroot application.
How to install:
1. Download Framaroot from our site
2. Run, choose Superuser or SuperSU
3. Select Boromir or another character
4. You will see :-)
5. Reboot device
6. Root- installed
If you have any problems with installation check FAQ
Screenshots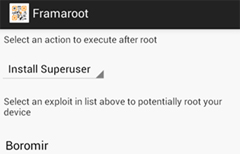 Download Framaroot 1.9.3 APK and install it on your Android device. With Framaroot you can easily root any supported smartphone or tablet by just installing the APK
Use the Framaroot 1.9.3 APK to root your smartphone or tablet without any hassle.
You can get Framaroot by using the direct download links below:
Download Framaroot APK